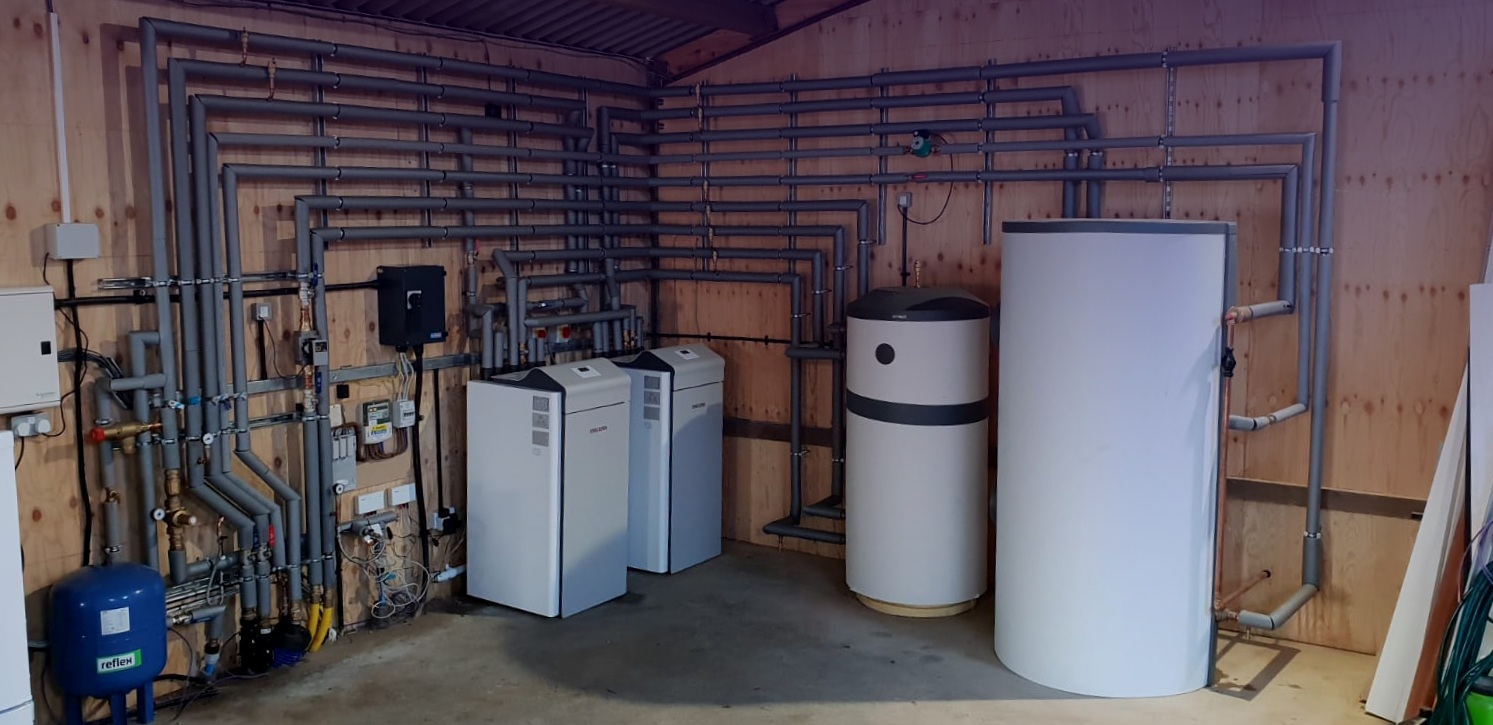 If you have any other questions or would like to discuss a project, please give us a call on 0116 260 8002 or fill in our contact form and we will get back to you as soon as possible.
how much does a renewable energy system cost?
Send us some plans and a brief outline of the age of your building/s and thermal insulation and we can start the ball rolling to get you a fixed price quotation! We cannot provide a cost estimate at the beginning as we won't know enough about your property or the installation required.
how long does it take from quoting to installation?
Normally, it takes around 6-8 weeks depending on the complexity and size of your project. We will be able to give you a more precise answer once we have more information about your property and installation.
What is the Renewable Heat Incentive (RHI)?
The Domestic Renewable Heat Incentive (Domestic RHI) is a government financial incentive to promote the use of renewable heat. Switching to heating systems that use eligible energy sources can help the UK reduce its carbon emissions and meet its renewable energy targets.
People who join the scheme and stick to its rules receive quarterly payments for seven years for the amount of clean, green renewable heat it's estimated their system produces. Visit Ofgem for more info regarding current tariffs.
how do i claim rhi on my system?
We will help you through the RHI process, aiding you in making your application and ensuring all of your relevant documents are in one place. You can be assured that we will help you throughout the whole process.
how do i know you are a reliable and trustworthy company?
We purposely have reviews carried out by YouGen, a trustworthy review service. We are also very happy to put you in contact with any of our customers in your area if you would like to hear some customer feedback.
are you fully accredited and insured?
We are fully insured and accredited in all areas of our work. All of our engineers are insured and fully trained, the work we do is insured and we are accredited by NAPIT, MCS, RECC and Gas Safe. If you'd like to read more about the certification bodies then please read more here.
How long does a renewable heating system last?
The lifespan of a quality heat pump can be up to 20 years when maintained and serviced correctly.
hoW MUCH DOES A RENEWABLE HEATING SYSTEM COST TO RUN?
It depends how efficient your home is. For example, a new build property costs less to run than an 18th Century Inn. We will be able to give you an idea when we discuss your property requirements with you.
Who do i call if there's an issue?
In the unlikely event you should have an issue with your system, we would be your first port of call so just give us a ring on 0116 260 8002 and we can make arrangements to come and carry out any service and maintenance needed.
do i need to enter a service contract?
To maintain manufacturer warranties you will need to maintain an annual service, all of which we can offer. If you decided to not go with us for your servicing, we would strongly recommend you go with another accredited and insured installer.
still have questions? give us a call on 0116 260 8002 or Contact us through our form below.